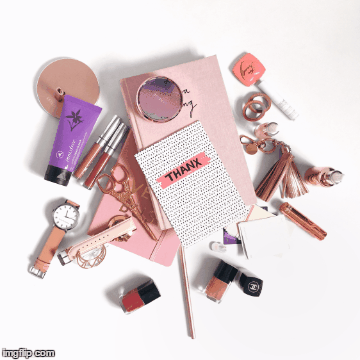 9am: 23-year-old Cee jumpstarts her day with some light exercise; think stretching or a couple of dumbbell reps. Then she gets on with her to-do list (beautifully handwritten, of course). On today's agenda: A photo shoot in her home studio; some of her recent work includes styling for Savour magazine, with her first brand collaboration on Instagram harkening back to 2014. Fast-forward three years and she now works on commissions and is signed under Churp Churp, a subsidiary of the Netccentric Group.
10am: But first, it's mealtime for the furry duo! Aren't her guinea pigs adorable?
10.30am: A bite of breakfast while scrolling through social media, catching up on videos and replying to emails.
12pm: Time to go through the mood board prepared in advance for clients. Yup, creating content, shooting images and making sure they're perfect can be fun, but the endeavour is certainly not effortless – what you need is a keen eye for detail, creativity and a little patience to turn this hobby into a money-maker. Words of wisdom from Cee: "It's easy to get struck in a creative rut when you have to come up with new content every day, so a great way is to try and base it on your daily life. Keep in mind that hard work doesn't always pay off instantly, but if you keep going, someday people will notice your work."
2pm: Once you've got a mental image of your project of the day, it's time to pull out the props. Between 2 to 4pm is Cee's favourite time to shoot, because the natural lighting courtesy of our tropical sun works best for her.
2.30pm: Cee's tip for styling food items? Shooting ice-cream is tricky in Singapore due to our scorching hot weather. A true professional, she'd turn down the air conditioner temperature to the lowest available setting, set up the props with her camera on standby, so that the moment the ice-cream is out of the fridge, she will be able to start snapping from as many different angles as she can. Depending on the products or the subject of the day, she says that she can take over 100 images at a go, which gives her more options to choose from when editing. (Fair warning: The sheer volume of raw material can be a massive headache to review.)
For food that won't melt, she'd take her time and find the perfect angle while changing up some props in between takes. Try experimenting with various techniques and vantage points; think top down or at 30- to 45-degree angles from the table. FYI, Cee uses a Canon EOS 60D and alternates between the 50mm f/1.8 II and 18-135mm lenses.
3pm: Another nifty tip – Blu-Tack tape is a good way of pinning your items to the ground and preventing them from rolling out of frame.
8pm: No modern stylist or photographer can live without a laptop. A lot of Cee's editing is done with Adobe Photoshop Lightroom for photos and Final Cut Pro for videos. After dinner, you'll find her glued to her computer. Since she usually works on the shots a few days before sending them over to the client, she can spend a little more time on tweaking and editing the photos.
Read more on women with cool funky jobs and four ways you can make money with your favourite hobby.
Want more? Get a copy of the February 2017 Her World issue in which we speak to new-generation job holders in Singapore.