Photo: 123rf
Oh, how much do we love our guilty pleasures?
While classy food and innovative dishes thrill the gourmands in us, we all need to return to our guilty pleasures now and then. Call it a tastebud reset.
Here are some iconic fast-food treats from over the years which have gotten some love from our gluttonous tummies. Which one is your favourite?
The Classics
1. KFC's Zinger Double Down
Photo: KFC
While I am a big fan of the KFC Curry Chicken Rice bucket and think of it as a snack, it is probably a meal for most. So the next best thing is the iconic Zinger Double Down, which was launched in 2012. The bread for the burger was replaced by pieces of fried chicken, with turkey bacon, cheese and sauce sandwiched in between. It was both an indulgence and a treat, and a delicious reward for braving the long queues.
ALSO READ: 5 NEW RESTAURANT-BARS THAT OFFER CASUAL FOOD AND WINE
2. Burger King's Onion Rings
Who wants ordinary fries when you have onion rings? The Burger King onion rings have accompanied many study sessions and first dates over the years, and it's a must-have with any meals at BK.
3. Ya Kun Kaya Toast's Kaya Toast set
Although kaya toast is in its name, and you must try it if you haven't, it is the entire set of coffee, bread and eggs that that will lead your diet astray. Customise it to your will: kopi-o, siew dai or si, with as much dark soya sauce and pepper drizzled over the runny eggs as you like. It worked in the 1940s (when Ya Kun first operated as a coffee shop), and it is still drawing the crowds today.
4. Breadtalk's Pork Floss Bun
Photo: Breadtalk
Breadtalk's Pork Floss Buns have been a hit since 2000, and there have been imitations, but the OG still remains a best seller. Although prices have gone up, it is still a signature item. And when the day is lousy, there is nothing like biting into the pillowy, sweet-salty buttery buns, with its sinful slick of mayonnaise and savoury floss, to feel better.
Current Crazes
5. Old Chang Kee's Nasi Lemak Chicken'O
Photo: Old Chang Kee
While they have always been popular for their signature curry puffs, Old Chang Kee was surprised by the success of the limited-edition Nasi Lemak Chicken'O when it was launched in March. They had expected to move a few thousand units daily, but the word-of-mouth became so strong that some outlets sold out within two hours of opening. No word yet if it'll be a permanent item but it has definitely become a draw for them.
6. McDonald's Thai Milk Tea Ice Cream
Photo: Yeoh Wee Teck / The Straits Times
McDonald's have had their share of fad-driven hits. The most recent is the Chocolate Pie, which became so popular that it sold out with days of its launch and has been taken off the menu. For now. A spokesman teased: "Regrettably, the love affair is short-lived this time, but we hope to be reunited again in the future."
But luckily, there is a new obsession.
The Thai Milk Tea ice cream is the next hit. Singaporeans have always loved Thai iced tea, so this is pretty much a no-brainer flavour. But like the Chocolate Pie, it is only available while stocks last.
7. Krispy Kreme's Hazelnut Original Glazed Donut
Who knew that in 2018, we would be queuing for a donut again? But the moment the Krispy Kreme Hazelnut Original Glazed Donut – aka donut with Nutella – hit social media, it sold out almost everywhere. You can always count on #FOMO for marketing muscle.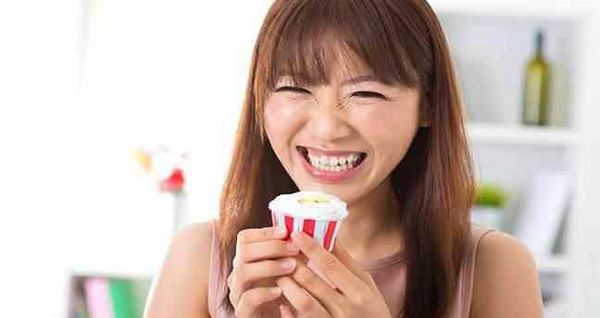 Which of these guilty pleasures is your favourite?
This article was originally published in The Straits Times.
ALSO READ: 5 GUILT-FREE DESSERT CHOICES TO SATISFY YOUR SWEET TOOTH