Photo: Mary-Ann Soh/ Her World
If you love shopping in Hong Kong, you'd be delighted to know that there is a capsule collection exclusive to Tory Burch's newest boutique at Landmark Alexandra.
The capsule is a gorgeous feminine collection in pretty pastels – nothing else from the Spring/ Summer'18 (S/S'18) collection in store is quite like it.
Here's what we like about it, but first, you need to appreciate where the designs came from.
ALSO READ: IRRESISTIBLE DRESS WATCHES FOR ALL OCCASIONS
The design of the capsule and her S/S'18 collections were inspired by the original scrapbooks of one of the most reknown English interior designers of his time, David Hicks. At his prime in the 70s and 80s, Hicks opened in 15 countries around the world, designed the Okura Hotel in Tokyo and the yacht of the King of Saudi Arabia.
Tory Burch, who was family friends with Hicks, was very inspired by his "exquisite attention to detail". His "witty take on colour and print" had a lasting impression on her, Burch said. And here's a little fun fact we found out that the interiors of most of her stores, especially the one at Alexandra House, were inspired by Hicks' interior design works.
Cute floral printed bags from Tory Burch's S/S'18 capsule collection. (Photo: Mary-Ann Soh/ Her World)
So the prints that were in Hicks' scrapbook were given a new lease of life with Tory's capsule collection as she pieced the graphic geometric floral prints cleverly side by side, such that no two pieces of the collection are the same.
To top it off, pyjama shirts are lined with grosgrain trims and dresses embellished with sequins for subtle texturing.
We are no designers but we can imagine how working with prints can be tricky, but Burch managed to pull it off pretty well to make the clashing of prints work, somehow.
ALSO READ: 10 CHIC BAGS TO LUST OVER THIS SEASON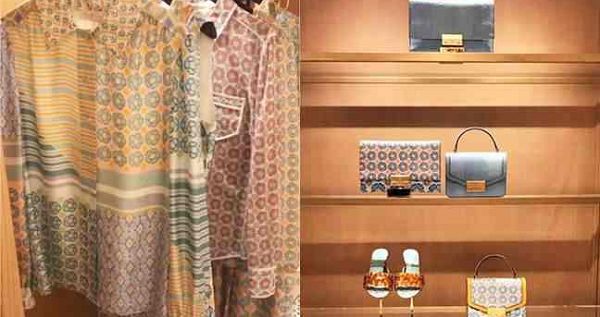 Would you dress in Tory Burch's capsule collection?