Photo: Dior/Instagram
Thanks to Kylie Jenner and her ilk, matte lips and liquid lipsticks have enjoyed their time in the spotlight for a good few years. But now, as heralded by Ariana Grande in 7 Rings, it's time for glossy lips to shine.
Lip glosses have long been plagued by textural and longevity issues. Who wants to wear heavy, gloopy glosses, especially in a humid climate? No one in their right minds, that's who.
Luckily, the past few months has seen a slew of brands releasing super high-shine lipsticks that gives traditional glosses a run for their money, with none of that dreaded gloopiness. And so, when our beauty team was offered the chance to give the Dior Addict Stellar Shine lippies a whirl, we were excited but slightly wary – will it live up to expectations?
Short answer: yes. Long answer: it checked all the boxes, and then more . Here's how the lipsticks performed on us: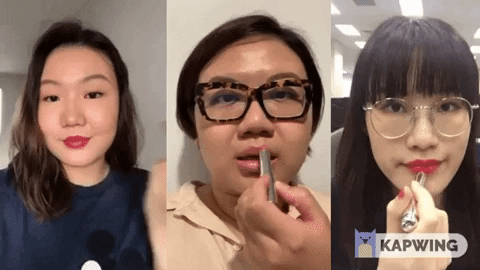 Chelsea Tang, Beauty Writer tried Dior Addict Stellar Shine in #976 Be Dior
Packaging: ♥ Chic holographic packaging with a pink brand logo reveals a cheeky, playful side to Dior that I fancy.
Texture: ♥ Buttery, glides-on-lip-easy formula, in a plush gel texture. Colour almost "melts" onto your lip.
Scent: ♥ No discernible scent, which is great.
Ease of use: ♥ Fuss-free. The texture wasn't too melty that colour bled outside the lip line; it was still easy to do up a clean lip with just the lipstick.
Immediate after-feel: ♥ Like I can take on the world. The lipstick wasn't heavy or tacky – it just sat pretty and shiny on my lips (which is all that I ask for, really).
Results: ♥ 967 Be Dior fades to a softly diffused watercolour-esque stain through meals. Reapplication was easy too – swipe it on and your lip is good as brand new.
Price: ♥ $52 is a reasonable price for a lipstick that makes you feel like a million bucks. I'd want to collect all shades, stat.
Verdict: ♥♥♥♥♥♥♥
Joyce Cheo, Senior Beauty Writer tried Dior Addict Stellar Shine in #260 Mirage
Packaging: ♥ The super fun packaging is like a party in my purse—I love whipping it out for touch-ups.
Texture: ♥ Feels smooth and buttery.
Scent: ♥ I also appreciate that there's not much scent to it because lipsticks can be overly fragranced to just smell like chemicals.
Ease of use: ♥ Glides on like a dream.
Immediate after-feel: ♥ Smoothed away chapped bits and left lips so soft. Non sticky too.
Results: ♥ I love this colour because it gives me a my-lips-but-better effect even after 6 hours on my lips.
Price: ♥ Even though it's definitely a splurge for a lipstick, but it's actually pretty good value.
Verdict: ♥♥♥♥♥♥♥
Engracia Ang, Beauty Writer tried Dior Addict Stellar Shine in #673 Diorcharm
Packaging: ♥ The Stellar Shine lipstick comes in Dior Addict's signature packaging and looks really pretty sitting on my office desk.
Texture: ♥ The lightweight balm-like texture feels really hydrating and moist.
Scent: ♥ Smells kind of vanilla-ish but it's not overpowering.
Ease of use: ♥ The formula glides on smoothly and I could even apply it without looking into a mirror.
Immediate after-feel: ♥ It feels like an ultra-luxe lip balm and left my lips quite soft.
Results: ♥ It lasted through copious cups of tea and faded to a soft wash of pink after lunch.
Price: ♥ Though pricey, it's a good buy if your budget allows it.
Verdict: ♥♥♥♥♥♥♥
ALSO READ: WHAT OUR BEAUTY TEAM REALLY THINKS OF: CHANTECAILLE'S POLAR ICE EYE PALETTE